Fight Cancer Now with Proton Therapy
Non-Surgical, Non-Invasive
Avoid Unnecessary Radiation
Lower Risk of Side Effects
Only Proton Center in East TN
Benefits of Proton Therapy
Proton therapy is a more precise form of radiation therapy that is an effective treatment option for many cancer patients. It can be used alone or combined with other forms of treatment. Protons have distinct characteristics that allow the radiation beam to precisely target the tumor. This avoids unnecessary radiation to nearby healthy tissue and organs, ultimately reducing the risk of short-term and long-term side effects.
Researchers have compared proton therapy to traditional radiation therapy (x-ray/IMRT) and found that proton therapy significantly reduces your risk of developing a second cancer later in life:
69% reduction among all cancer patients

82% reduction among prostate cancer patients

58% reduction among head and neck cancer patients

38% reduction among breast cancer patients

with at least five years of follow-up19
Cancers We Treat
Below are the most common cancers being treated at Provision CARES Proton Therapy Knoxville, the only cancer center in East Tennessee offering proton therapy. Contact us today to speak with one of our Cancer Care Experts to determine if proton therapy is right for you.
Brain & Spine Cancers

The brain and spinal cord make up your central nervous system. The brain controls many important body functions, while the spinal cord connects the brain to nerves throughout the body. Exposing healthy tissue in the brain and spinal cord areas to unnecessary radiation can cause significant complications, including neurological dysfunction and loss of cognitive skills. Proton therapy can be a great option for many patients, because central nervous system tumors are surrounded by important structures which, if damaged, could result in long-term side effects.

Central nervous system tumors most appropriate for proton therapy include:

Ependymomas
Germ cell tumors
Gilomas (astrocytomas)
Medulloblastomas
Oligodendrogliomas
Pineoblastomas
Pituitary gland tumors
Almost all pediatric brain/spinal cord tumors

Breast Cancer

Proton therapy shows remarkable promise and advantages over traditional radiation therapy in the treatment of breast cancer. Protons have unique attributes that reduce radiation exposure to healthy organs.2,3 This is especially important in left-sided breast cancer, as the cancer is close to critical organs such as the heart and the lungs.

Proton therapy is not a substitute for a lumpectomy. Rather, it is used as an alternative to traditional radiation therapy. After a lumpectomy, a breast cancer patient may receive two to six weeks of proton therapy. Proton therapy offers a number of other compelling benefits:

Treatment is provided in an outpatient setting
Proton radiation has little to no impact on patients energy level
Lower risk of side effects
Minimal downtime
Effective treatment for early stage breast cancer
More precise than other forms of radiation
Causes less cosmetic damage than traditional radiation
Recent studies link increased risk of heart disease to traditional radiation for left-sided breast cancer

Esophageal Cancer

Proton therapy can be an effective part of a treatment plan for esophageal cancer, which often includes some combination of chemotherapy, surgery and radiation. With traditional radiation (x-ray/IMRT), critical organs including the heart, lungs, kidneys, liver, stomach and bowel can be exposed to unnecessary radiation. The precision of proton therapy allows physicians to precisely target the tumor, avoiding unnecessary radiation to these vital organs. As a result, the risk of side effects like nausea, vomiting, difficulty swallowing and loss of appetite is reduced.

There are also many long-term clinical benefits of proton therapy for esophageal cancer, including:

26% decrease in lung toxicity compared to traditional radiation (x-ray/IMRT) 17
21% decrease in the risk of severe lymphopenia, particularly in lower esophagus 18
Reduced risk of severely impacting your immune system due to low lymphocyte (a type of white blood cell) count
15% decrease in distant metastasis at 5 year in stage II-III 16
Reduced risk of the cancer spreading from the original tumor to distant organs or lymph nodes
10% increase in local cancer control at 5 years in stage II-III 16
10% increase in overall survival at 5 years in stage I-III 16

Gastrointestinal Cancers

Gastrointestinal (GI) cancers can be challenging to treat due to their location close to sensitive structures like the bladder, bowel, small intestine, stomach, spinal cord and kidneys. Proton therapy allows physicians to precisely treat tumors with higher doses of radiation while avoiding unnecessary radiation to surrounding healthy tissue and vital organs. GI tract tumors most appropriate for proton therapy include:

Anal Cancer
Esophageal Cancer
Gastric Cancer
Liver Cancer
Pancreatic Cancer
Rectal Cancer

Cancers of the GI Tract are often treated with a combination of modalities including surgery, chemotherapy, and radiation. Proton therapy can be an excellent non-invasive option and provide superior treatment plans compared to traditional radiation.
In many cases, the ability to precisely target the tumor site and avoid unnecessary radiation to nearby tissue allows physicians to treat tumors that would not otherwise be treatable.

The precision of proton therapy can avoid radiation to sensitive organs, decreasing the risk of negative side effects including nausea, cramping, dehydration, inability to absorb nutrients from food, and diarrhea.

Gynecologic Cancers

Gynecologic cancer is any cancer that starts in a woman's reproductive organs. Proton therapy can help reduce the radiation dose to surrounding healthy tissues like the kidneys and bladder. There are several types of Gynecologic cancer including:

Cervical Cancer
Ovarian Cancer
Uterine Cancer
Vaginal Cancer
Vulvar Cancer

Treatment for Gynecologic cancers can include surgery, chemotherapy and radiation. If you need radiation to treat your cancer, proton therapy provides a more precise option, minimizing the radiation dose received by healthy tissues and nearby critical organs/structures including the rectum, pelvic bones, kidneys, bladder and bowel.

Head, Neck & Oral Cancers

Head and neck cancers include cancers of the mouth, throat, salivary gland and voice box. When treating head and neck tumors, it is critical to protect the delicate organs that surround the tumor. Proton therapy can substantially reduce damage to eyes, optic nerves, salivary glands, and other tissue and organs near these tumors.4-6 Proton therapy also reduces the likelihood of side effects such as blindness, hearing deterioration, dry mouth,5 and secondary malignancies.4

The precision of proton therapy helps head and neck cancer patients maintain better nutritional health with a decreased risk of losing the ability to swallow or needing a feeding tube.

Proton Therapy Treatment
Depending on the size of the tumor, a combination of proton therapy and surgery may be used for treatment. Some head and neck cancer sites which benefit most from proton therapy include:4,5,7

Hypopharyngeal
Larynx
Nasopharynx
Nasal cavity
Paranasal sinuses
Oropharynx
Salivary gland
Squamous cell carcinoma
Tongue
Tonsil

Benefits of Proton Therapy
The clinical benefits of proton therapy for head and neck cancer vary depending on the specific cancer site, but can include:8-11

Improved ability to swallow, reducing the risk of needing a feeding tube
Decreased risk of tooth extraction
Reduction in compromised or loss of taste
Decreased risk of nausea and mouth pain

Hodgkin Lymphoma

Hodgkin Lymphoma is a cancer of the immune system. Located in the lymph nodes, it is most often found in children and young adults and compromises the body's ability to fight infection. When compared to traditional radiation methods, proton therapy is less likely to lead to significant side effects, like heart disease and secondary cancers, because of its ability to precisely target the cancerous areas and avoid unnecessary radiation elsewhere.

Lung Cancer

Proton therapy can avoid unnecessary radiation to healthy tissue and critical organs surrounding the tumor. This is a major concern when it comes to radiation treatment for lung cancer because the cancer may be close to your heart, healthy lung and other vital organs.

Provision offers the latest in proton therapy treatment featuring pencil beam scanning technology, which allows our Board-Certified Radiation Oncologists to provide high doses of radiation directly to the tumor, controlling the depth of the protons emitted and avoiding unnecessary radiation to healthy tissue and organs surrounding the tumor. As a result, patients experience fewer side effects.

With traditional (x-ray) radiation, side effects such as nausea, shortness of breath, fatigue and significant weight loss are common. However, with proton therapy, these side effects are nearly eliminated. Many patients also have an improved recovery experience.

Doctors and scientists have been studying the results of proton therapy for lung cancer. The chart below shows the results of one study in particular in which patients with Stage III Non-Small Cell Lung Cancer who were treated with proton therapy experienced significantly lower rates of esophagitis and pneumonitis (infections caused by inflammation) compared to patients treated with traditional radiation therapy such as intensity modulated radiation therapy (IMRT) and three-dimensional conformal radiation therapy (3D-CRT), radiation treatments that both use x-rays.12

Pancreatic Cancer

Pancreatic cancer is challenging to treat with an effective dose of radiation without compromising nearby critical tissues and organs, including the kidneys, stomach and spinal cord. Therefore, a combination of treatment methods is often used, including surgery, radiation and chemotherapy. However, the use of traditional radiation therapy can be difficult and add risk to the patient because of the pancreas' proximity to other organs.

Proton therapy provides an opportunity for treatment that is less likely to compromise these surrounding tissues and organs. Radiation oncologists are able to use the unique physical properties of protons to precisely treat the target area, while limiting or completely eliminating radiation exposure to healthy tissue. As a result, the chances of destroying the cancer cells increase and the risk of negative side effects decreases.

Pediatric Cancers

Proton therapy offers many advantages when treating cancers in children, adolescents and young adults. Since children and adolescents are still growing, their tissue is more sensitive to the potential negative effects of radiation. In fact, the American Society of Radiation Oncology (ASTRO) ranks using proton therapy to treat solid tumors in pediatric patients with the highest importance (ASTRO Model Policy, 2014).

Pediatric cancers that can be treated with proton therapy include:

Brain Tumors
Sarcoma
Retinoblastoma
Neuroblastoma
Lymphoma

Prostate Cancer

Proton therapy has become a trusted method for treating prostate cancer with a lower risk of side effects and improved quality of life. Prostate cancer patients might not need surgery. Proton therapy can precisely deliver a high dose of radiation directly to the prostate tumor, while avoiding unnecessary radiation to much of the adjacent bladder and rectum. Studies have shown that proton therapy is an ideal treatment for all stages of prostate cancer that can reduce the risk of serious bowel or bladder complications (compared to traditional radiation), allowing men to maintain their normal daily activities both during and after treatment.

Benefits of Proton Therapy
There are several clinical benefits of proton therapy for prostate cancer including:

94-99% of low to intermediate risk prostate cancer patients remain cancer free after five years.13
Patients who received proton therapy report the highest quality of life compared to surgery, x-ray or brachytherapy patients.14
50% reduction in treatment related bowel frequency and urgency within two years of treatment.15

Sarcoma

Sarcomas are cancerous tumors which develop in connective tissues including fat, bone, muscle, nerves and cartilage. Proton therapy allows the radiation to enter the body at a targeted spot, then stop, eliminating any radiation beyond the cancerous area. This means the sensitive tissue that usually surrounds a sarcoma will receive less secondhand radiation.
How Proton Therapy Works
When protons enter the body, most of their energy is deposited at the targeted tumor and does not continue beyond that target. This unique behavior allows protons to destroy cancer cells while minimizing damage to nearby healthy tissue and critical organs. This is different from traditional radiation, in which x-rays deposit more radiation before their target, then continue delivering radiation beyond the target until exiting the body.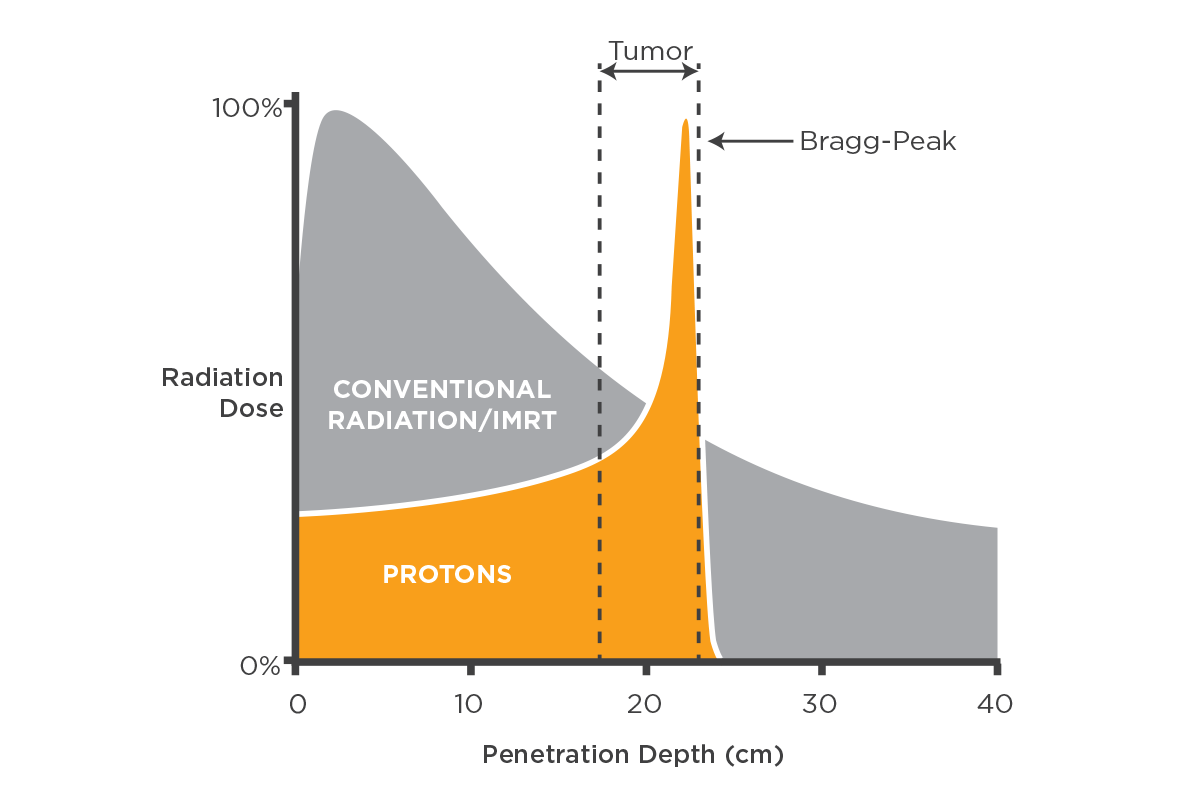 The image above shows the difference between protons and x-rays (IMRT). The goal of treatment is to deliver the proper dose of radiation directly to the tumor, while limiting the amount of exposure to surrounding healthy tissue. This is illustrated by the orange area, which represents proton therapy. On the other hand, the gray area shows how x-rays use IMRT to deliver radiation. Much of the healthy tissue in front of the target receives unnecessary radiation, and by the nature of x-rays, more unnecessary radiation is delivered beyond the tumor, compared to proton therapy.
Patient Testimonials
Felicia L.
``I really liked that proton therapy is more precise and they can control the depth, especially with my heart being there. Protons made me feel like my cancer was truly out of me.``
Bill R.
``I was just blown away by the culture and atmosphere of Provision. That sealed the deal. I felt and continue to feel at home here.``
Tammy C.
``At Provision, everybody is so friendly. They make sure you understand and make sure you are comfortable. I feel like I gained a whole new family here.``
Ken R.
``I'm so thankful I found Provision. I could've taken the other treatment, but from now on I would have had all those side effects to deal with.``
Only Proton Center in East TN
Provision CARES Proton Therapy is located in West Knoxville. Our beautiful Dowell Springs campus is less than 10 minutes from downtown, just off Middlebrook Pike.

Warm Welcome
From the moment you walk through our doors, you'll be greeted at the front desk by our happy and friendly Hospitality Coordinators. They can answer many of your questions and will happily provide hospitality services around the area.
Beautiful, Spacious Campus
Our Dowell Springs campus includes walking trails and water features designed to bring comfort and peace of mind to patients and families.
Calming Atmosphere
As you walk into the treatment room for your procedure, you'll be greeted by beautifully large images of the East Tennessee landscape to help calm any nerves you have.
Power of Protons
Our treatment rooms are designed with your comfort in mind. All of our clinical staff members are highly trained experts in their field who care deeply about your experience at Provision.
Comfort and Convenience
We make every effort to create a non-clinical environment whenever possible. Our treatment center has a large, open parking lot – no parking garages or stairways to worry about. Patients can be dropped off right outside the front doors at our covered entryway.
98% Patient Satisfaction
Our 98% Patient Satisfaction scores speak to our excellence in patient experience and our Culture of Care.
Clean and Safe
Our goal is to ensure timely treatment in a safe environment. Our non-hospital setting offers peace of mind for all of our patients.
Patient Concierge
Our Patient Concierge provides personalized care to all patients, including lodging support and other needs for traveling patients.
Sources & Studies

1. Zietman AL, Bae K, Slater JD, et al. Randomized trial comparing conventional-dose with high dose conformal radiation therapy in early-stage adenocarcinoma of the prostate: long-term results from proton radiation oncology group/american college of radiology 95-09. J. Clin. Oncol. 2010; 28(7): 1106-111

2. MacDonald S, Specht M, Isakoff S, et al. Prospective pilot study of proton radiation therapy for invasive carcinoma of the breast following mastectomy in patients with unfavorable anatomy – first reported clinical experience. Int J Radiat Oncol. 2012;84(Suppl 3):S113-S114. Abstract 281

3. Moon SH, Shin KH, Kim TH, et al. Dosimetric comparison of four different external beam partial breast irradiation techniques: three-dimensional conformal radiotherapy, intensity-modulated radiotherapy, helical tomotherapy, and proton beam therapy. Radiother Oncol. 2009;90:66-73

4. Steneker M, Lomax A, Schneider U. Intensity modulated photon and proton therapy for the treatment of head and neck tumors. Radiother Oncol. 2006;80(2):263-267

5. Taheri-Kadkhoda Z, Björk-Eriksson T, Nill S, et al. Intensity-modulated radiotherapy of nasopharyngeal carcinoma: a comparative treatment planning study of photons and protons. Radiat Oncol. 2008;3:4

6. Yeung D, Malyapa RS, Mendenhall WM, et al. Dosimetric comparison of IMRT and proton therapy for head and neck tumors. Int J Radiat Oncol Biol Phys. 2006;66(3):S412

7. Brian C. Baumann, MD1,2,3; Nandita Mitra, PhD3,4; Joanna G. Harton, MS4; et al. Comparative Effectiveness of Proton vs Photon Therapy as Part of Concurrent Chemoradiotherapy for Locally Advanced Cancer. JAMA Oncol. Published online December 26, 2019

8. Gastrostomy Tubes Decrease by Over 50% With Intensity Modulated Proton Therapy (IMPT) During the Treatment of Oropharyngeal Cancer Patients.

9. Sio, Terence & Lin, Huei-Kai & Shi, Qiuling & Gunn, Gary & Cleeland, Charles & Lee, J. & Hernandez, Mike & Blanchard, Pierre & Thaker, Nikhil & Phan, Jack & Rosenthal, David & Garden, Adam & Morrison, William & Fuller, C. & Mendoza, Tito & Mohan, Radhe & Wang, Xin & Frank, Steven. (2016). Intensity-Modulated Proton Therapy (IMPT) versus Intensity-Modulated Photon Radiotherapy (IMRT) for Oropharyngeal Cancer: First Comparative Results of Patient-Reported Outcomes. International Journal of Radiation Oncology*Biology*Physics. 95. 10.1016/j.ijrobp.2016.02.044.

10. Holliday EB, Garden AS, Rosenthal DI, Fuller CD, Morrison WH, Gunn GB, Phan J, Beadle BM, Zhu, XR, Zhang X, Hanna E, Glisson BS, Hutcheson KA, El-Naggar AK, Hong JH, Hung TM, Uzel EK, Lewis G, Frank SJ. Proton Therapy Reduces Treatment-Related Toxicities for Patients with Nasopharyngeal Cancer: A Case-Match Control Study of Intensity-Modulated Proton Therapy and Intensity-Modulated Photon Therapy. 2015;2(1):19–28

11. Proton beam radiation therapy results in significantly reduced toxicity compared with intensity-modulated radiation therapy for head and neck tumors that require ipsilateral radiation Romesser P.B., Cahlon O., Scher E., Zhou Y., Berry S.L., Rybkin A., Sine K.M., (…), Lee N.Y. (2016) Radiotherapy and Oncology, 118 (2) , pp. 286-292.

12. Charged Particle Therapy for Nasal Cavity and Paranasal Sinus Malignancies: A Systematic Review and Meta-analysis Patel, S.H. et al. International Journal of Radiation Oncology • Biology • Physics, Volume 90, Issue 1, S542 – S543

13. Hartsell, William; Bentefour, Hassan; Dooling, David; Mendenhall, Nancy. Proton Therapy Is Associated with Superior Survival and Decreased Risk of Complications Compared to IMRT for Intermediate Risk Prostate Cancer: A Medicare/SEER Database Study. Abstract 34 Presented at PTCOG-NA October 25, 2017 at National Conference in Chicago. http://ptcog-na.org

14. Bryant Research Survey published October 2015.

15. Comparative Effectiveness Study of Proton Therapy Versus IMRT for Definitive Treatment of Prostate Cancer Based on Patient-Reported Outcomes Hoppe, B.S. et al.International Journal of Radiation Oncology • Biology • Physics, Volume 87, Issue 2, S346

16. Comparative Outcomes After Definitive Chemoradiotherapy Using Proton Beam Therapy Versus IMRT for Esophageal Cancer: A Retrospective, Single-Institutional Analysis. https://www.redjournal.org/article/S0360-3016(17)33516-2/abstract

17. A Multi-Institutional Analysis of Trimodality Therapy for Esophageal Cancer in Elderly Patients. https://www.redjournal.org/article/S0360-3016(17)30399-1/fulltext

18. Lymphocyte-sparing Effect of proton therapy in patients with esophageal cancer treated with definitive chemoradiation. https://theijpt.org/doi/10.14338/IJPT-17-00033.1

19. Xiang M, Chang DT, Pollom EL. Second cancer risk after primary cancer treatment with three-dimensional conformal, intensity-modulated, or proton beam radiation therapy. Cancer. 2020;0:1-9.