Fight Cancer Now with Proton Therapy
---
Advanced. Precise. Effective Treatment
for Head, Neck & Oral Cancers.
Gum • Hypopharyngeal • Laryngeal • Lip • Mouth • Nasal Cavity • Nasopharyngeal • Oropharyngeal • Palate • Salivary Gland • Sinus Cavity • Throat • Tongue • Tonsil • Voice Box • Squamous Cell Carcinoma
Benefits of Proton Therapy
Proton therapy is a more precise form of radiation therapy that is an effective treatment option for many head, neck and oral cancer patients. It can be used alone or combined with other forms of treatment. Protons have distinct characteristics that allow the radiation beam to precisely target the tumor. This avoids unnecessary radiation to nearby healthy tissue and critical structures, ultimately reducing the risk of short-term and long-term side effects.
Studies have shown many clinical benefits of proton therapy for head, neck and oral cancers:
45% reduction in overall risk of needing a feeding tube for nasopharyngeal cancer3
44% relative increase in disease free survival rate for nasal and paranasal sinus cavity cancers at 5 years5
27% reduction in overall risk of needing a feeding tube for oropharyngeal cancer1
Dramatic reduction of negative impact on taste, nausea, and painful changes to the mouth in salivary gland treatment4
Fewer side effects first 3 months after treatment, quicker return to normal function in patients with oropharyngeal cancer2
Comparing Treatment Options
We believe the quality of your life during and after treatment matters. That's why it's important to be your own health advocate and understand all of your treatment options, as well as the possible side effects of each.
When treating cancer with radiation, you have a choice between traditional radiation therapy (x-ray/IMRT) and proton therapy. Both methods kill cancer, but proton therapy avoids unnecessary radiation to nearby healthy cells. As a result, patients experience fewer side effects both during and after treatment.
Cancers We Treat
More than 60,000 Americans are diagnosed annually with head, neck and oral cancer. When treating head and neck tumors it's critical to protect the delicate organs that surround the tumor. Proton therapy can substantially reduce damage to eyes, optic nerves, salivary glands, and other tissue and organs near head and neck tumors.7-9 Proton therapy also reduces the likelihood of side effects such as blindness, hearing deterioration, and dry mouth.8 Secondary malignancies are also less likely with proton therapy.7
Proton therapy can be an ideal treatment for many types of head, neck and oral cancers.
How Proton Therapy Works
When protons enter the body, most of their energy is deposited at the targeted tumor and do not continue beyond that target. This unique behavior allows protons to destroy cancer cells while minimizing damage to nearby healthy tissue and critical organs. This is different from traditional radiation, in which x-rays deposit more radiation before their target, then continue delivering radiation beyond the target until exiting the body.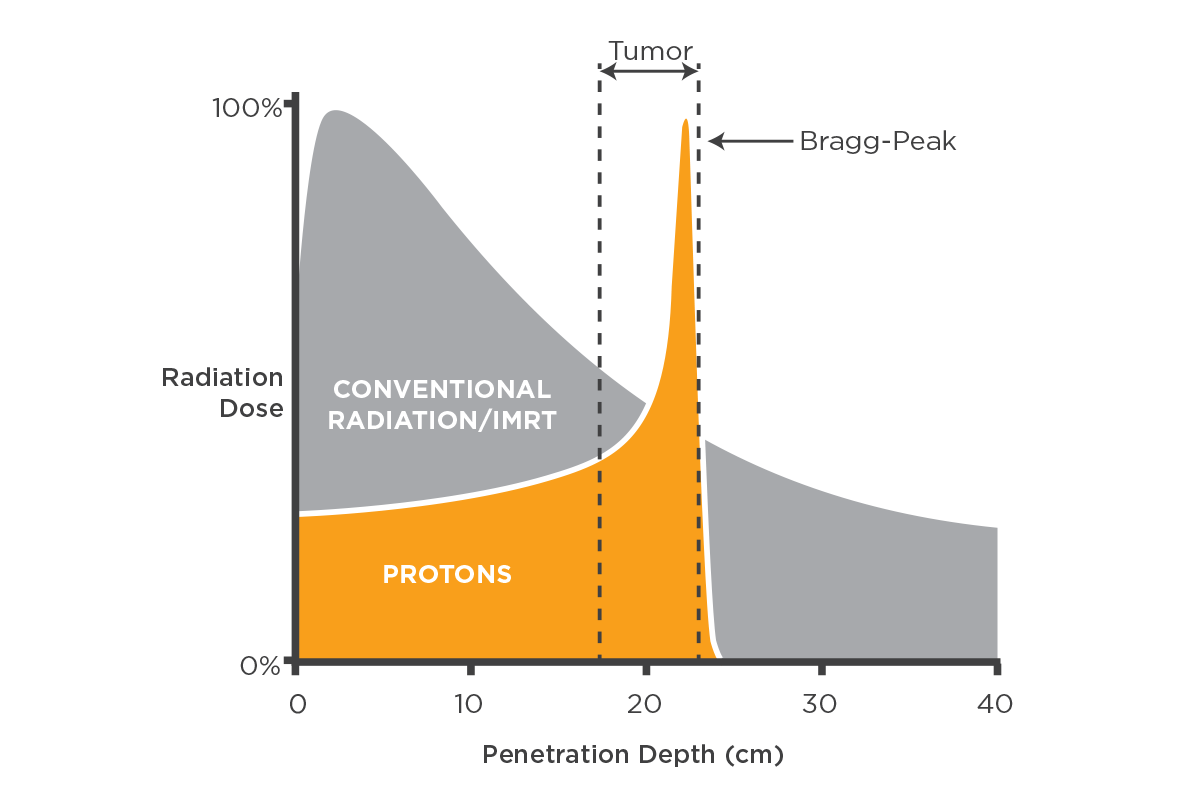 The image above shows the difference between protons and x-rays (IMRT). The goal of treatment is to deliver the proper dose of radiation directly to the tumor, while limiting the amount of exposure to surrounding healthy tissue. This is illustrated by the orange area, which represents proton therapy. On the other hand, the gray area shows how x-rays use IMRT to deliver radiation. Much of the healthy tissue in front of the target receives unnecessary radiation, and by the nature of x-rays, more unnecessary radiation is delivered beyond the tumor, compared to proton therapy.
Patient Testimonials
Holly C.
"Everyone is so wonderful at Provision. It just doesn't feel like a cancer treatment center."
Ken R.
"I'm so thankful I found Provision. I could've taken the other treatment, but from now on I would have had all those side effects to deal with.``
Ryan M.
"The doctors were easy to work with and made the treatment process relaxed and not scary."
Terry V.
``I've yet to hear one negative remark from anyone at Provision. That makes you feel even more like we're in the right place."
Only Proton Center in East TN
Provision CARES Proton Therapy is located in West Knoxville. Our beautiful Dowell Springs campus is less than 10 minutes from downtown, just off Middlebrook Pike.

Warm Welcome
From the moment you walk through our doors, you'll be greeted at the front desk by our happy and friendly Hospitality Coordinators. They can answer many of your questions and will happily provide hospitality services around the area.
Beautiful, Spacious Campus
Our Dowell Springs campus includes walking trails and water features designed to bring comfort and peace of mind to patients and families.
Calming Atmosphere
As you walk into the treatment room for your procedure, you'll be greeted by beautifully large images of the East Tennessee landscape to help calm any nerves you have.
Power of Protons
Our treatment rooms are designed with your comfort in mind. All of our clinical staff members are highly trained experts in their field who care deeply about your experience at Provision.
Comfort and Convenience
We make every effort to create a non-clinical environment whenever possible. Our treatment center has a large, open parking lot – no parking garages or stairways to worry about. Patients can be dropped off right outside the front doors at our covered entryway.
98% Patient Satisfaction
Our 98% Patient Satisfaction scores speak to our excellence in patient experience and our Culture of Care.
Clean and Safe
Our goal is to ensure timely treatment in a safe environment. Our non-hospital setting offers peace of mind for all of our patients.
Patient Concierge
Our Patient Concierge provides personalized care to all patients, including lodging support and other needs for traveling patients.
Sources & Studies

1. Steneker M, Lomax A, Schneider U. Intensity modulated photon and proton therapy for the treatment of head and neck tumors. Radiother Oncol. 2006;80(2):263-267

2. Taheri-Kadkhoda Z, Björk-Eriksson T, Nill S, et al. Intensity-modulated radiotherapy of nasopharyngeal carcinoma: a comparative treatment planning study of photons and protons. Radiat Oncol. 2008;3:4

3. Yeung D, Malyapa RS, Mendenhall WM, et al. Dosimetric comparison of IMRT and proton therapy for head and neck tumors. Int J Radiat Oncol Biol Phys. 2006;66(3):S412

4. Taheri-Kadkhoda Z, Björk-Eriksson T, Nill S, et al. Intensity-modulated radiotherapy of nasopharyngeal carcinoma: a comparative treatment planning study of photons and protons. Radiat Oncol. 2008;3:4

5. Sio, Terence & Lin, Huei-Kai & Shi, Qiuling & Gunn, Gary & Cleeland, Charles & Lee, J. & Hernandez, Mike & Blanchard, Pierre & Thaker, Nikhil & Phan, Jack & Rosenthal, David & Garden, Adam & Morrison, William & Fuller, C. & Mendoza, Tito & Mohan, Radhe & Wang, Xin & Frank, Steven. (2016). Intensity-Modulated Proton Therapy (IMPT) versus Intensity-Modulated Photon Radiotherapy (IMRT) for Oropharyngeal Cancer: First Comparative Results of Patient-Reported Outcomes. International Journal of Radiation Oncology*Biology*Physics. 95. 10.1016/j.ijrobp.2016.02.044.

6. Holliday EB, Garden AS, Rosenthal DI, Fuller CD, Morrison WH, Gunn GB, Phan J, Beadle BM, Zhu, XR, Zhang X, Hanna E, Glisson BS, Hutcheson KA, El-Naggar AK, Hong JH, Hung TM, Uzel EK, Lewis G, Frank SJ. Proton Therapy Reduces Treatment-Related Toxicities for Patients with Nasopharyngeal Cancer: A Case-Match Control Study of Intensity-Modulated Proton Therapy and Intensity-Modulated Photon Therapy. 2015;2(1):19–28

7. Proton beam radiation therapy results in significantly reduced toxicity compared with intensity-modulated radiation therapy for head and neck tumors that require ipsilateral radiation Romesser P.B., Cahlon O., Scher E., Zhou Y., Berry S.L., Rybkin A., Sine K.M., (…), Lee N.Y. (2016) Radiotherapy and Oncology, 118 (2) , pp. 286-292.

8. Charged Particle Therapy for Nasal Cavity and Paranasal Sinus Malignancies: A Systematic Review and Meta-analysis Patel, S.H. et al. International Journal of Radiation Oncology • Biology • Physics, Volume 90, Issue 1, S542 – S543