Fight Prostate Cancer with Proton Therapy
Non-Surgical, Non-Invasive
Up to 99% Success Rate1
Avoids Unnecessary Radiation
Reduces Risk of Side Effects
Benefits of Proton Therapy
Proton therapy is a more precise form of radiation therapy that is an effective treatment option for many prostate cancer patients. It can be used alone or combined with other forms of treatment. Protons have distinct characteristics that allow the radiation beam to precisely target the tumor. This avoids unnecessary radiation to nearby healthy tissue and organs, ultimately reducing the risk of short-term and long-term side effects.
Non-surgical, non-invasive

Reduces risk of incontinence

2

and erectile dysfunction.

3

Excellent success rates

99%

for low risk prostate cancer

94%

for medium risk prostate cancer

74%

for high risk prostate cancer1
Compare Your Treatment Options
We believe the quality of your life during and after treatment matters. That's why it's important to be your own health advocate and understand all of your treatment options, as well as the possible side effects of each.
There are many factors to consider when choosing a prostate cancer treatment, including your Gleason Score and the stage of your cancer.  In general, treatment options may include surgery, chemotherapy, hormone therapy, brachytherapy, traditional x-ray radiation, proton therapy, or a combination of these.
Considering Gleason Score & Cancer Stage

When choosing a prostate cancer treatment, your Gleason Score & cancer stage will be factors in determining the best plan.

After diagnosis, your prostate cancer is given a Gleason Score. This is determined by comparing the formation of cancer cells from your biopsy to normal healthy tissue. A lower score indicates a cell formation that more closely resembles healthy tissue. A higher score indicates a more aggressive cancer with abnormal cell formation. Your Gleason Score determines the cancer's grade.

Gleason Score 6 or below: Grade 1
Gleason Score 7: Grade 2 or 3
Gleason Score 8: Grade 4
Gleason Score 9 or above: Grade 5

Prostate cancer staging combines clinical factors like a physical exam, PSA level, Gleason score and imaging to determine an alphanumerical score:

Stage I
Stage II
Stage III (A, B or C)
Stage IV (A or B)

For cancer in general, Stages 1 and 2 are usually localized, or limited to the original site. Stage 3 typically indicates the cancer has spread to nearby tissue. Stage 4 generally means the cancer has spread elsewhere within the body.

Comparing Proton Therapy to Other Treatments

Patients report many quality-of-life benefits when comparing proton therapy to other common treatments, including surgery, brachytherapy and traditional radiation (x-ray/IMRT). Unlike surgery and brachytherapy, proton therapy is non-invasive. It is also a non-surgical procedure that doesn't require a hospital stay.

When asked about their quality of life after prostate cancer treatment, men treated with proton therapy reported:

Higher overall quality of life after treatment
Remaining more active during treatment
Better urinary control after treatment
Maintaining sexual function after treatment

Proton therapy is one of the world's most advanced forms of radiation therapy. The precision of proton therapy makes it an effective treatment option for many prostate cancer patients. Protons have distinct characteristics that allow the radiation beam to precisely target the tumor, avoiding unnecessary radiation to nearby healthy tissue and organs. Ultimately, this reduces the patient's risk of short-term and long-term side effects.

View "Quality of Life Survey" results to see patient-reported outcomes supporting the many benefits of proton therapy for prostate cancer treatment.

Why Choose Protons Over X-rays?

Proton therapy and traditional radiation are similarly effective when it comes to destroying cancer cells. However, proton therapy's ability to avoid unnecessary radiation to nearby healthy tissue and organs reduces your risk of side effects.

Research shows proton therapy has many clinical benefits compared to x-rays/Intensity Modulated Radiation Therapy (IMRT).

21% lower risk of urinary toxicity2

25% lower risk of erectile dysfunction3

35% less radiation to the bladder5

42% decrease in relative risk of developing a secondary malignancy4

50% less treatment-related bowel frequency and urgency2

59% less radiation to the rectum5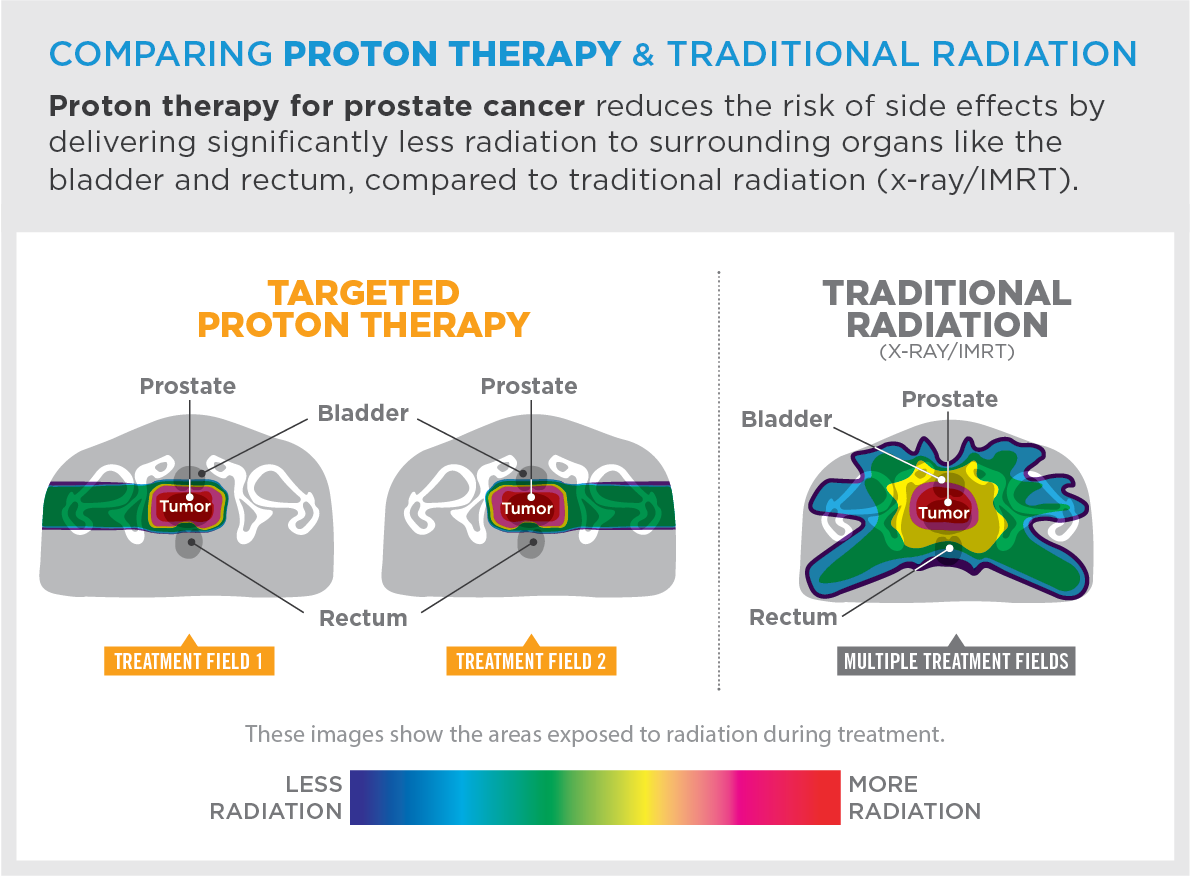 How Proton Therapy Works
When protons enter the body, most of their energy is deposited at the targeted tumor and do not continue beyond that target. This unique behavior allows protons to destroy cancer cells while minimizing damage to nearby healthy tissue and critical organs. This is different from traditional radiation, in which x-rays deposit more radiation before their target, then continue delivering radiation beyond the target until exiting the body.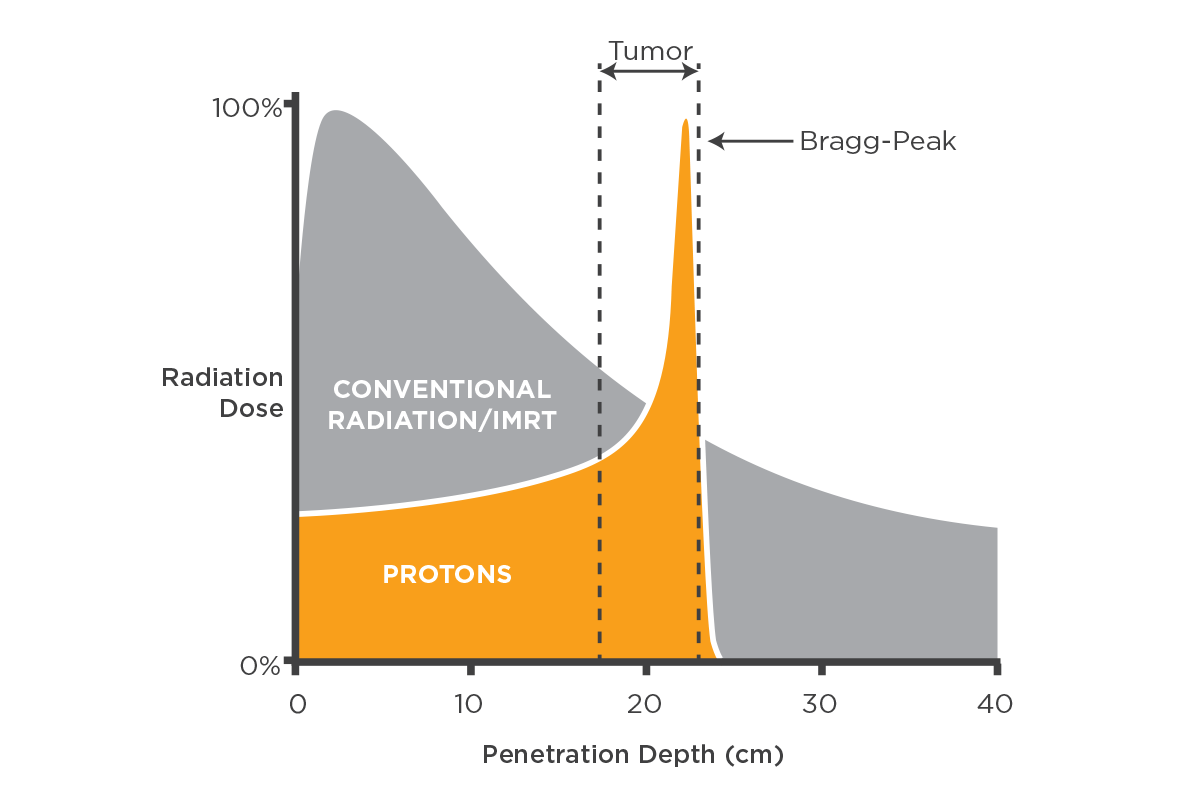 The image above shows the difference between protons and x-rays (IMRT). The goal of treatment is to deliver the proper dose of radiation directly to the tumor, while limiting the amount of exposure to surrounding healthy tissue. This is illustrated by the orange area, which represents proton therapy. On the other hand, the gray area shows how x-rays use IMRT to deliver radiation. Much of the healthy tissue in front of the target receives unnecessary radiation, and by the nature of x-rays, more unnecessary radiation is delivered beyond the tumor, compared to proton therapy.
Only Proton Therapy Center in East Tennessee
Provision CARES Proton Therapy is located in West Knoxville. Our beautiful Dowell Springs campus is less than 10 minutes from downtown, just off Middlebrook Pike.

98% Patient Satisfaction
Our 98% Patient Satisfaction scores speak to our excellence in patient experience and our Culture of Care.
Clean and Safe
Our goal is to ensure timely treatment in a safe environment. Our non-hospital setting offers peace of mind for all of our patients.
Patient Concierge
Our Patient Concierge provides personalized care to all patients, including lodging support and other needs for traveling patients.
Sources & Studies

1. Five-Year Biochemical Results, Toxicity, and Patient-Reported Quality of Life After Delivery of Dose-Escalated Image Guided Proton Therapy for Prostate Cancer. www.redjournal.org/article/S0360-3016(16)00158-9/pdf

2. Comparative Effectiveness Study of Patient-Reported Outcomes following Proton Therapy or IMRT for Prostate Cancer. www.ncbi.nlm.nih.gov/pmc/articles/PMC4103169/pdf/nihms-549318.pdf

3. Comparative toxicity and cost of Intensity-Modulated Radiotherapy, Proton Radiation, and Stereotactic Body Radiotherapy Among Younger Men With Prostate Cancer. ascopubs.org/doi/full/10.1200/JCO.2017.75.5371

4. Proton Therapy Is Associated with Superior Survival and Decreased Risk of Complications Compared to IMRT for Intermediate Risk Prostate Cancer: A Medicare/SEER Database Study.

5. Dose–Volume Comparison of Proton Therapy and Intensity-Modulated Radiotherapy for Prostate Cancer. www.redjournal.org/article/S0360-3016(07)03662-0/fulltext